Barry Bennett Ltd commissions Horace Lindezey to create commemorative blue plaque
---
Venture Arts is a progressive visual arts charity based in Manchester with over 30 years of experience.
"We work alongside learning disabled artists to create exciting new collaborative visual art work using a range of art mediums including illustration, photography, moving image, animation, textiles, printing, ceramics, 3D and paper art and multimedia."
We were thrilled when earlier this summer our charity partners, Bolton based Barry Bennett Ltd, got in touch to commission artist
Horace Lindezey
. Celebrating their 50th anniversary, they wanted to do something special and a bespoke ceramic blue plaque from Horace is just that!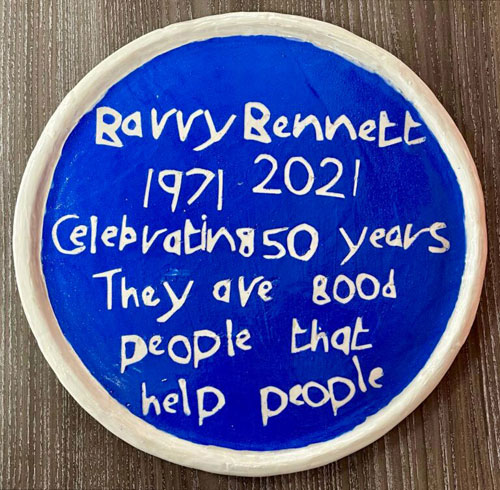 Our friends at Barry Bennett Ltd – the UK's leading supplier of Disabled Students Allowance (DSA) assistive technology – completed a step-challenge earlier this year and donated the proceeds to Venture Arts. This was the start of an exciting charity partnership between the two organisations.
To mark the 50th anniversary of the business, Antony Bennett, Managing Director, wanted to make a donation of £5,000 to Venture Arts and to acquire a piece of artwork from one of our talented artists for their head office in Bolton. Horace Lindezey's commemorative blue plaques were the natural choice. The plaque marks the dates of the 50 years they've been in business, with words chosen by Horace, "They are good people who help people".
Horace was thrilled to be able to present the plaque to them in person, along with Venture Arts Director, Amanda Sutton and Public Engagement Assistant, Amber Okpa-Stother. He told us;
"
I was proud to make the plaque for them and wore my suit and waistcoat
".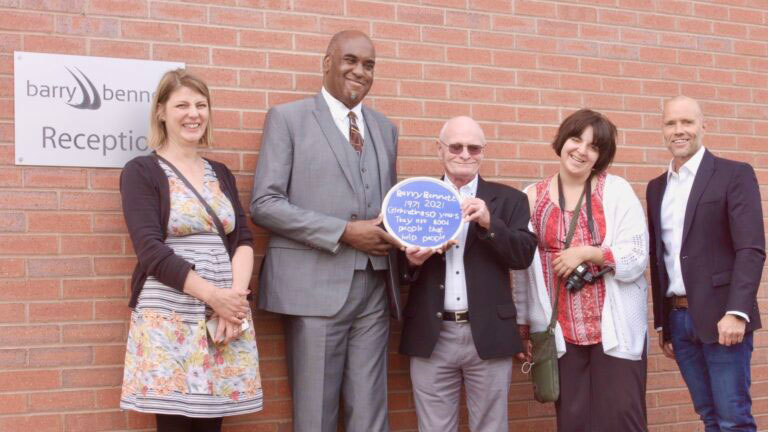 There were four generations of the Bennett family at the presentation, including founder of the company Barry Bennett himself, who set up the small typewriter business in 1971. Barry retired in 2000 and Antony took over the reigns at that point and has overseen it's growth into a £25m+ leader in the Assistive Technology sector.
Anthony Bennett, Managing Director, told us:
"
We are thrilled to celebrate our 50 year anniversary with the help of our charity partners, Venture Arts. Horace's take on the commemorative blue plaques is amazing and his personalisation for us, "They are good people who help people" is reflected in our core values so I couldn't be more proud. We have chosen to work with Venture Arts as their hard work enables their artists to achieve their potential, just as we help university students to achieve theirs in education. This is without doubt just the start of a very special journey.
"
If you would like to commission one of our artists to create a unique piece of art for your organisation, event, or loved one, please get in touch at
[email protected]