Microsoft Sculpt Ergonomic keyboard
The Sculpt Ergonomic Desktop keyboard and mouse let you work as long as you need to, while putting less strain on your wrists or forearms. The separate number pad provides greater flexibility for workspace setup.

Built with advanced ergonomics, it's designed with your comfort in mind. Works on Windows 8, Windows 7 and Windows RT. Two AAA batteries are included.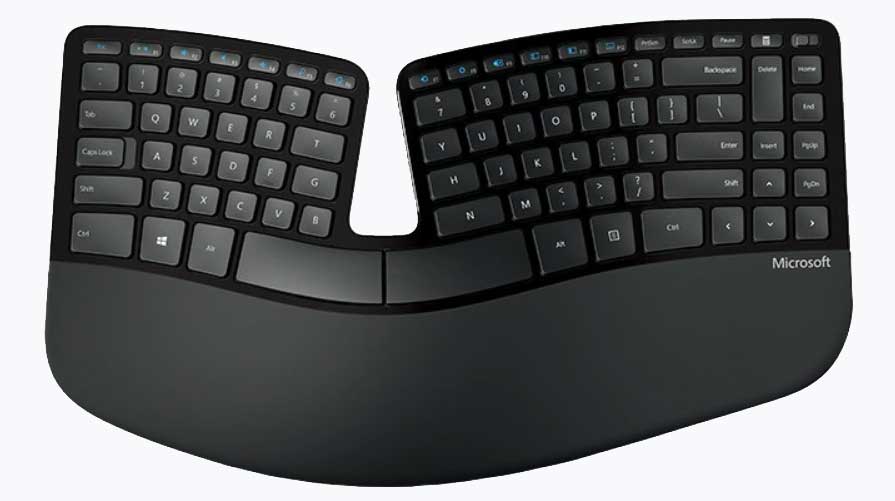 Advanced ergonomic design
The split keyboard layout keeps your wrists and forearms in a relaxed position, and a cushioned palm rest provides better wrist support.
More comfortable
Built on advanced ergonomic principles, it lets you work without the stress, strain and discomfort of other keyboards and mice you've used before.
It's all in the angles
The natural arc keyboard layout follows the curve of your fingertips for a more natural way of typing. A reverse tilt design positions the keyboard at the correct angle for a neutral wrist position, and the shape of the mouse is designed for maximum wrist comfort.
Saturnus Mini Keyboard S-Board 840 - USB
A compact keyboard does not have a numeric pad. For this reason, the mouse can be placed closer to the keyboard. Research has shown that 90% of keyboard users seldom if ever use the numeric pad.

Working with a compact keyboard results in greater comfort because it reduces the reaching distance to the mouse. This puts less strain on the shoulder and forearm. Dark letters on a light background make them easier to read, and contribute to increased productivity.

Specifications
Cable length - 150 cm
Drivers - Plug & Play
Width - 305 mm
Height - 20 mm
Depth - 165 mm
Weight - 480 gr
Mobile - Yes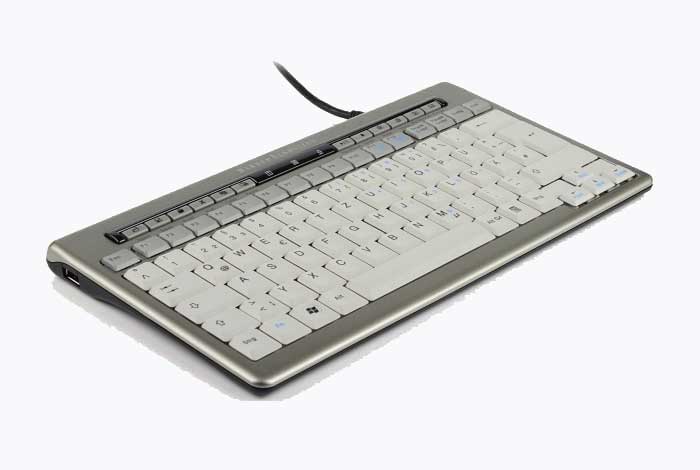 Optimal layout
Extra wide space-bar and user-friendly positioned arrow keys
Ergonomic
Pleasurable typing feeling, scissor mechanism instead of membranes
Handy
Comes with multimedia keys and 2 USB ports (USB hub)
Compact format
Its compact format prevents strain because the mouse is much easier to reach.

Goldtouch V2 Adjustable Comfort Keyboard
Goldtouch is an industry leader in Human Factors Engineering the Goldtouch V2 Adjustable Comfort Keyboard is everything you need and more. Designed specifically with the individual in mind

Dimensions
Width: 16.25 inches / 41.275 cm
Depth (front-to-back): 6.75 in / 17.145 cm
Height at home row: 1.25 in / 3.175 cm
Weight: 3.3 lb / 1.5 kg
Cable Length: 5 ft 11 inches / 1.8 m
Travel Distance: 3.6mm, +/-.5mm
Activation Key Force: 36g-42g (average)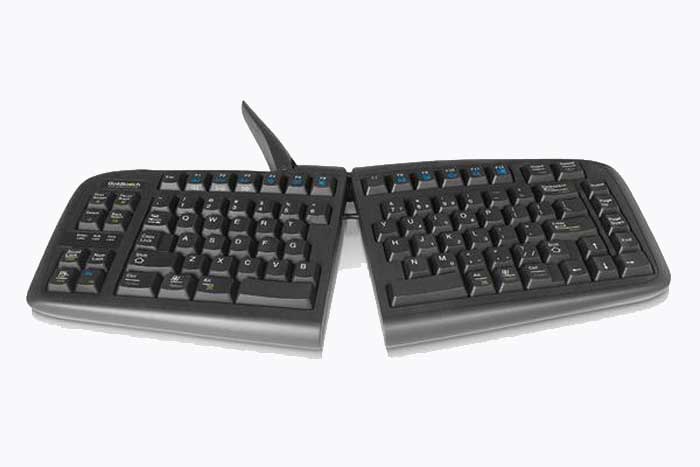 Complete Adjustability
With 0°-30° of adjustments on the horizontal and vertical planes, the Comfort Keyboard will straighten your hands, wrists, shoulders, and back, helping to prevent carpal tunnel syndrome and other RSIs.
A better typing experience
With soft keys, a low activation force and full key travel distance, reduce the risk of "bottoming out" while typing.
Space saving
This compact keyboard will fit nicely into limited spaces, reducing shoulder abduction when reaching for mice and other peripherals.
Compatible
With PC and Mac

Kensington Expert Optical Trackball
The Expert Mouse Wired Trackball is the ultimate productivity enhancer that makes working at the desk quicker, more accurate and extremely comfortable for your hand and wrist. Featuring DiamondEye technology, the trackball uses optical tracking to precisely follow small flecks embedded in the large 55mm ball to provide smooth, accurate cursor control.

The four buttons are customizable using our highly intuitive TrackballWorks™ software, while our award-winning Scroll Ring lets you quickly scan up and down web pages and large documents.

Add it all up and you get exceptional comfort and ease-of-use that has set the industry standard for more than 20 years.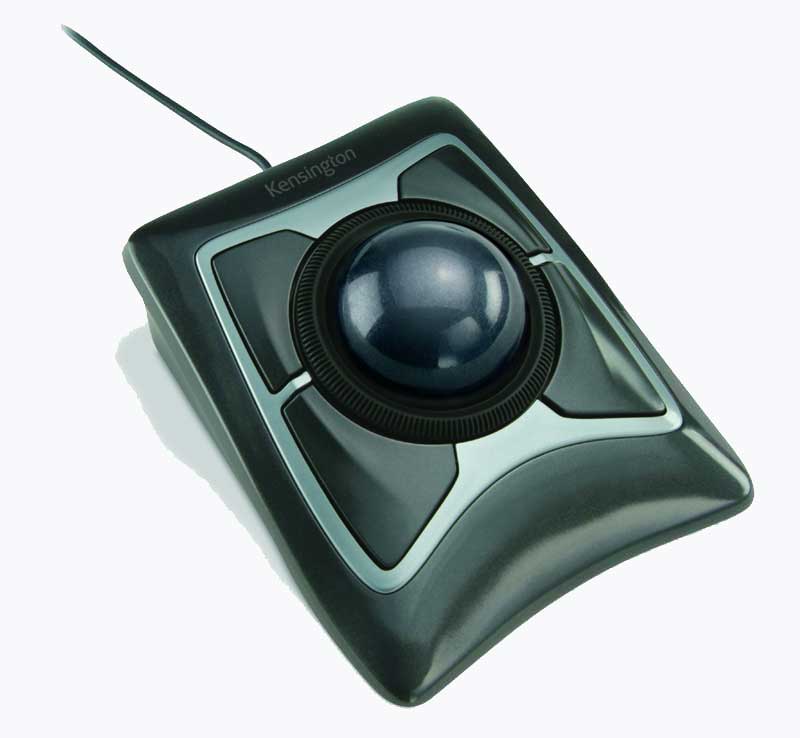 TrackballWorks™ Customization
Free downloadable software provides an even more personalized experience, giving you the ability to assign a wide variety of program functions to each of the 4 buttons, as well as controlling the pointer speed and scrolling speed
DiamondEye™ Optical Tracking
Movement detection technology provides smooth, precise cursor control so you can get where you want on the screen quickly with less hand movement, improving productivity and efficiency
Scroll Ring and Large Ball
Spin the dial to move up and down web pages or documents with complete ease while the grey ball has been specially designed with an absolute spherical, hard surface for precise tracking and control
Ambidextrous Design
Works equally well for both right-handed and left-handed users to get the most out of their trackball

Kensington Orbit Scroll Ring USB Trackball Mouse
All-day comfort and scrolling come together in the Orbit Trackball with Scroll Ring. The award-winning scroll ring allows you to spin through web pages and long documents without the need for clicking. It offers better ergonomics, with less wrist and hand movement that will ease the pain of repetitive-stress injuries.

TrackballWorks software gives you the opportunity to assign specific functions to your 2 buttons and create a truly customized productivity experience. Optical tracking provides smooth and accurate cursor control, and a detachable wrist rest offers terrific ergonomic support when you're hard at work.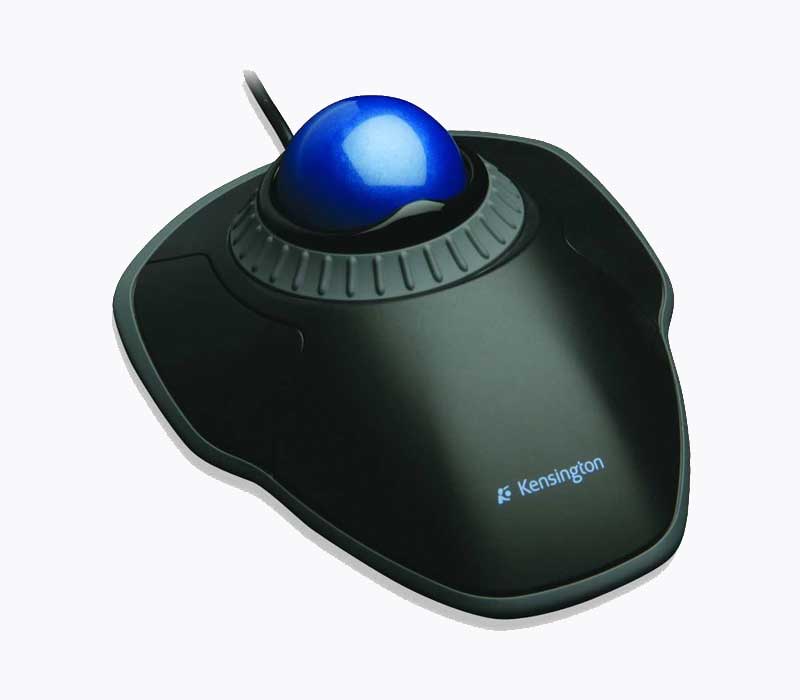 Award-winning
Award-winning Scroll Ring lets you scan up and down pages with ease
Perfect sphere
Medium 40mm ball is designed as a perfect sphere to provide exceptional precision
Customize the 2 buttons
TrackballWorks™ software lets you customize the 2 buttons, adjust cursor and scrolling speed
Superior cursor control
Optical tracking technology for superior cursor control and accuracy
Ergonomic comfort
Detachable wrist rest supports hand and wrist for ergonomic comfort
Ambidextrous
Ambidextrous design works equally well for both right-handed and left-handed users

RollerMouse mobile
The RollerMouse Mobile is your new ergonomic mouse on the go. It's a compact version of Contour's well-known centred mouse, which places your hands in front of you in a natural and relaxed position. By using the roller bar, you naturally vary your working position, as you use both hands to navigate the cursor. You avoid the micro-movements typical of one-handed mice and touchpads on laptops – movements that increase the risk of mouse arm. Whether you're a home worker, a travelling consultant, a student or working in a free-seating workplace, the RollerMouse Mobile can prevent and relieve tension and pain in your body.

Despite its smaller size, the relevant functions of the RollerMouse Mobile have not been compromised – the functionality is as good as our other RollerMouse models. The five programmable buttons and the roller bar with a built-in click function increase both productivity and ergonomics.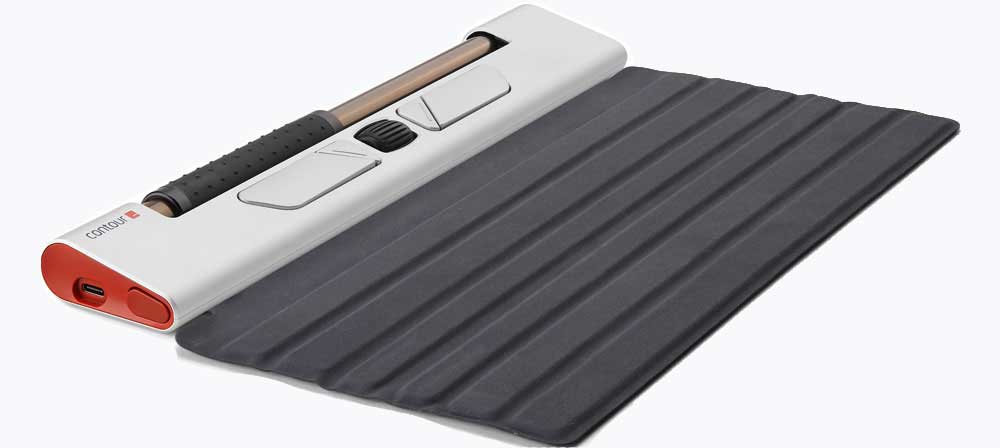 Smaller in size – not in functionality
Although the RollerMouse Mobile is a lot smaller than Contour's previous models, its functionality hasn't been compromised. RollerMouse Mobile has a wide roller bar with high precision and a dual sensor that guarantees the same functionality as other RollerMouse models – despite its smaller size.
Painless work on the go
As the RollerMouse Mobile is small, compact and wireless, you can effortlessly carry it with you on the go, so you can work without tension and pain wherever you are. It's easy to fold the cover around to prevent damage, and it doesn't take up a lot of space.
Customize it to your needs
The RollerMouse mobile has five programmable buttons that can be set to your favourite shortcuts. If you often use copy/paste, your work will only get easier.
Top-class precision
The RollerMouse Mobile has several DPI levels, which controls the speed and precision of the cursor. The DPI level can be set at different levels from 600 DPI all the way up to 3000 DPI, which makes your work efficient and more precise. Enjoy!

Contour Rollermouse Red Plus
RollerMouse Red Plus works well in compact spaces, and for users with medium to large hands. RollerMouse Red Plus provides more palm support and a smooth, soft, and comfortable transition between your RollerMouse and desktop, distributing pressure over a wider area. RollerMouse Red Plus is ideal for use with mountable keyboard trays.

Specifications
Weight - 5 kg
Dimensions - 17.25 x 7.5 x 1.75 cm
Scroll Wheel - Yes
Buttons - 6 programmable buttons
Sensor Type - Twin-eye laser
OS - OSX, Windows
Connection - USB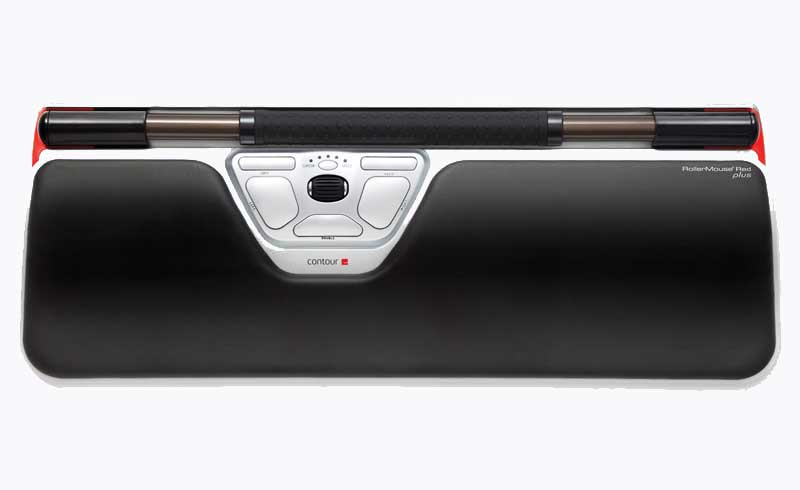 When bigger is better.
Experience all of the benefits of RollerMouse Red, now with additional palm support. RollerMouse Red plus offers a longer and smoother transition from desk to RollerMouse and keyboard. Because it is larger than the regular palm support on RollerMouse Red, RollerMouse Red plus promotes an even better and more ergonomic working posture for you. RollerMouse Red plus also provides additional comfort for computer users with larger hands and longer fingers.
Make a great productivity partner even better.
RollerMouse Red Plus comes with an extended wrist rest, adding an additional two inches (5.5 centimeters) of support to your palms, wrists and forearms. The tapered angle and soft inner core of the extended palm support helps improve hand posture and distributes pressure over a wider area.