MindView is a professional Mind Mapping software that allows you to optimize brainstorming sessions and present ideas visually. MindView's Mind Mapping capabilities are an effective way to organize and develop ideas, outline reports and streamline decision-making.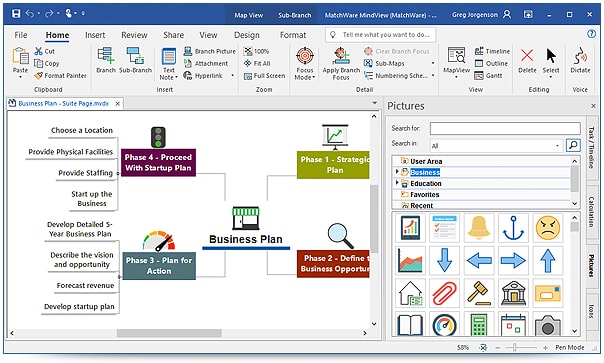 Easy-to-use
Easy-to-use with MS Office Interface.
Templates
Templates, Examples and Video Tutorials.
Award Winning
Award Winning MS Office Integration.
Optimized
Optimized for Project Planning.
Gantt Chart
Built-in Gantt Chart and Timeline.
Collaboration
Collaboration Options.

MindManager's flexible mind maps and diagrams promote freeform thinking and enable quick organization of ideas and information. Use MindManager's visual format to capture, organize and communicate complex topics more clearly. Manage your work more effectively with MindManager. MindManager is available for both Windows and Mac desktops.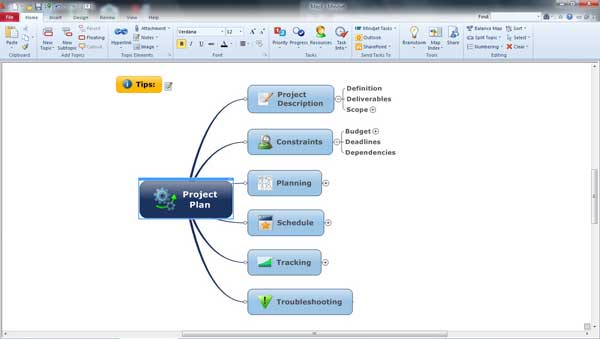 Capture
Use MindManager like a virtual whiteboard where you can brainstorm and capture your best thinking. Highlight meaningful connections while you build out ideas. Easily add notes, hyperlinks and attachments and work more efficiently with all your information in a single view.
Organize
Simply drag and drop to organize information and prioritize action items. Use MindManager maps to consolidate and transfer knowledge, analyze processes, and plan projects. Map out deliverables, due dates, dependencies and resources so everyone knows what they need to do, and when. And, when assumptions change, you can make adjustments quickly.
Communicate
Display feedback on the fly to improve meetings and drive participation. MindManager helps everyone involved see the big picture and all the details in context. Use MindManager's visual layout to create, validate, and communicate action items, business requirements, project goals, budget assumptions, and strategic priorities.
Manage
Move from brainstorming to planning to execution, all in a single application, and turn ideas into action. Progress markers, along with visible due dates and resources, aid status reviews. You can also use MindManager to organize your work, then export to Microsoft Office or Apple productivity apps.
Use MindManager for Windows or Mac
MindManager includes the most up-to-date releases for both Windows and Mac. View a list of features for each in the comparison chart.
More Open
Stay up to date by sending content and status updates right into your maps as topics. Use Zapier to send project status updates, transfer Gmail items, or send new content from your file management system into MindManager.

Capture your ideas, visualise information, plan projects, manage tasks and share knowledge using MindGenius.

With a simple user interface and intuitive mind mapping functionality at its core, MindGenius provides an effective way to brainstorm, plan, manage and become more productive.
Map Creation and Navigation
Create a new blank map or select a template from one of the categories available in the Templates Pane, such as brainstorming, strategy planning, project management, personal productivity.
Brainstorming
Select a Brainstorming template and capture ideas directly into the map or even use the dedicated Brainstorming mode to capture free-flowing ideas.
Task Management
Record task details and manage to-do lists and projects from start to completion within the map.
Project Management
Use the Integrated Gantt View for Project Management capability within MindGenius without the need to export to other applications.

For 21st century students, success depends on strong reading, writing, critical thinking and organizational skills, along with the ability to retain information, understand complex content and communicate knowledge effectively. In every subject and across a wide spectrum of projects, the new Inspiration® 9 provides an essential framework for thinking—helping 21st century students achieve more as they comprehend, create and communicate knowledge successfully.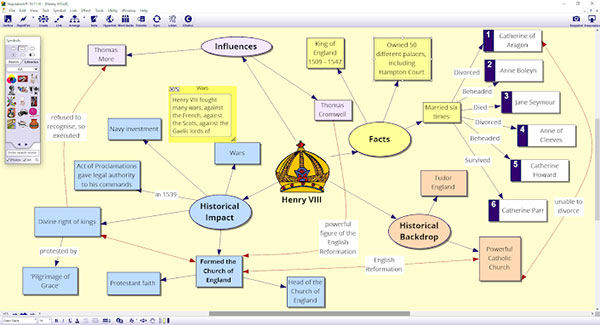 Visual tools
More visual tools that improve understanding, retention and communication
Visual view
A powerful NEW visual view to create and think with mind maps
More capabilities
More capabilities for organizing, outlining and writing
Presentation Manager
A NEW Presentation Manager to develop polished presentations and demonstrate knowledge