Not getting the most from class? Only a third of students think they get value from lectures. And no wonder!

The volume and speed of the information is overwhelming so it's harder to take effective notes and learn.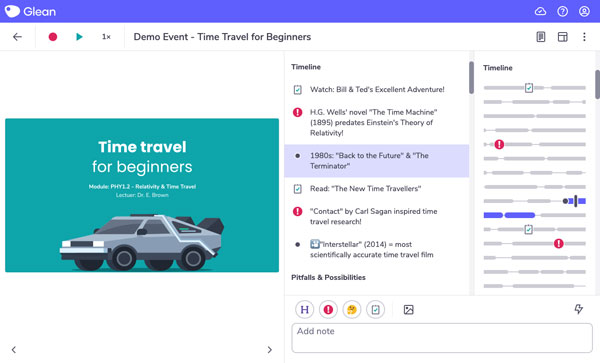 Three reasons note taking hasn't worked for you yet
It's distracting during class
You can either try and capture information in notes or actively listen and engage in discussion.
It's a process, not an outcome
The act of taking notes helps you to learn, so using class or peer notes affects understanding.
The medium doesn't work for you
We mostly study and teach with text, but spoken information might resonate more.
Glean is the antidote to information overload
Our proven four-step process empowers you to extract all the value you need from class so you can be more confident in what you're learning.
Record
In-class or online, recording is the foundation of your Glean notes.
Lightning Mode
Stay focused on class while marking the key moments that matter to you.
Screenshot
Instantly screenshot online classes to capture additional information not included in the slides.