If you ever dictate or type words that aren't in your speech recognition or spell checker program, you know how frustrating and time consuming that is. Rather than taking time to verify the spelling of words in a medical dictionary or other reference, Spellex products allow you to focus on other important aspects.

Spellex has been the leader in industry specific writing tools for 25 years. Whatever your need, Spellex has a software solution that is right for you.
Experience
Spellex has tens of thousands of hours of experience developing, building, maintaining, and supporting specialty spell checking and dictation solutions. No software company in our field has as much expertise or experience as Spellex.
Comprehensiveness
Spellex dictionaries and vocabularies are far more comprehensive than any other on the market. We build our programs to exceed the needs of the most demanding professionals
Ease of Use
Our software seamlessly integrates within their target programs to ensure total compatibility and functionality. Exhaustive testing on all major platforms is completed BEFORE Spellex products are released to market.
Innovation
Spellex leads the industry with new and innovative program features bringing products to market faster than anyone else. Spellex is a software development company ... not a book publisher.
Up-to-Date Word Lists
Spellex writing tools programs are far more up to date than others offering you the most current language when you need it most ... now! We update many of our vocabulary programs every three months.
Customer Base
Thousands of the world's most prestigious companies rely on Spellex. From the NHS to the FDA to the United Nations to Microsoft and IBM. Companies and professionals with the most demanding requirements have relied on Spellex for 25 years.
The new Spellex Dictation Gold Suite includes specialty vocabularies, intelligent spell checking, word definitions, pronunciations, and more. Spellex solutions equip dyslexic students with the assistive technology that can make the difference between succeeding or failing in the classroom.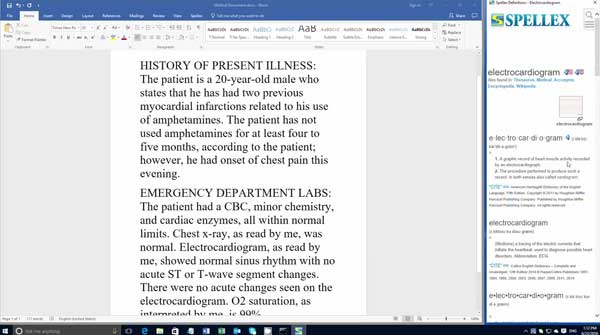 Spellex Dictation
Enhances your Dragon vocabularies with complex terminology to avoid errors in dictation. Perfect for studying medicine, law, veterinary science, and bioscience/engineering.
Spellex Suite
The Spellex Suite for Microsoft Office provides intelligent and distraction-free spelling correction, word definitions, pronunciations and a thesaurus to make writing easier.
DysLex Font
DysLex font helps dyslexics reduces the tendency to jumble characters and eases eye strain and frustration when reading.
Succeeding with Spellex Solutions
Equipping dyslexic students with the right assistive technology can make the difference between succeeding in the classroom or failing.

Spellementary is a revolutionary word finding software supporting people, with a "different way of thinking", to find the words they are really looking for. If you have ever struggled to find the spelling of a word then Spellementary is for you.

Spellementary is both Windows and Apple compatible. It is available in different versions depending on what functionality is required. The Spellementary Medical vocabulary consists of Over 12,000 authoritative entries and over 3,700 pronunciations, the Spellementary Legal vocabulary consists of over 4,000 word entries and over 800 pronunciations.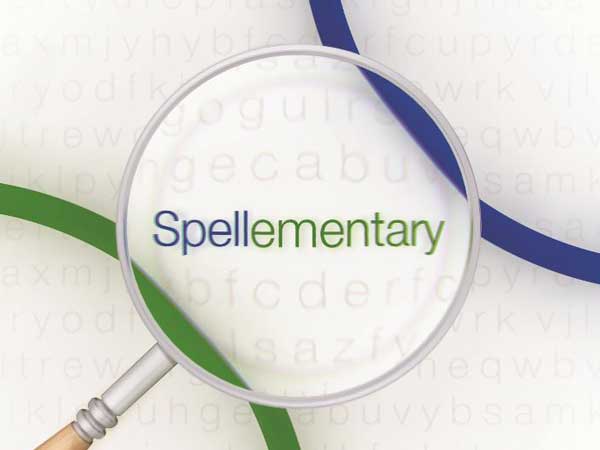 Unique
Unique word searching facilities.
Definition
Definition to resulting words.
Audible
Audible pronunciation.
Favourites
"Favourites" list of commonly used words.
Customisable
Customisable dictionary and of background colours (useful for those with Scoptopic sensitivity).
Adjustments
3 font size adjustments.

Global AutoCorrect saves you time and helps you to focus on what you're writing by automatically and intelligently correcting your spelling as you type. When you make a mistake, Global AutoCorrect analyses the sound patterns in the word to understand what you're trying to spell. This intelligent correction happens instantly. If there's a chance you could have meant something else, Global AutoCorrect won't just guess.Instead, you can pick the word you meant - just once - and it will be AutoCorrected in the future.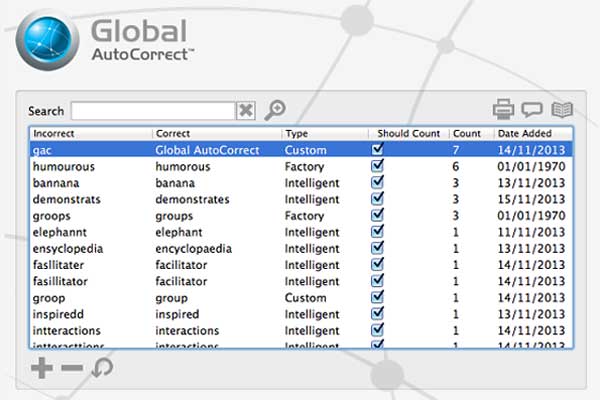 Vocabulary from over 130 subject dictionaries
Excellent coverage of general academic and subject specific words. These subjects range from Law to Media Studies, Design to Medicine, and English to Finance!
Improves productivity
Global AutoCorrect helps you to reduce red underlines, spend less time spell-checking and focus on the creative process of writing.
Intelligent corrections
When you make a mistake, the software analyses the sound patterns in the word to understand what you're trying to spell. This intelligent correction happens instantly.
Add your own corrections
If the software's not quite sure what you meant, it won't just guess. Instead, you can pick the word you meant and it will be autocorrected in the future.
Works in all programs
No plugins or configuration needed - no matter which program you're using, Global AutoCorrect will automatically correct your spelling!
Discreet and easy to use
Global AutoCorrect runs silently in the background - just type!
Improve your spelling
Global AutoCorrect keeps track of your spelling mistakes so you can work on them in your own time.
Works straight out of the box
The software comes preloaded with millions of autocorrections. It begins to work as soon as it's installed!

VeritySpell is a unique spellchecker capable of correcting serious spelling mistakes, mistakes involving confusable words and simple grammar mistakes in English texts.

It is specially designed for people with various reading and writing difficulties and dyslexia, and it offers considerably better support than ordinary, built-in spellcheckers and language checkers. However, VeritySpell can also be used by anyone who needs additional spelling and language support from time to time.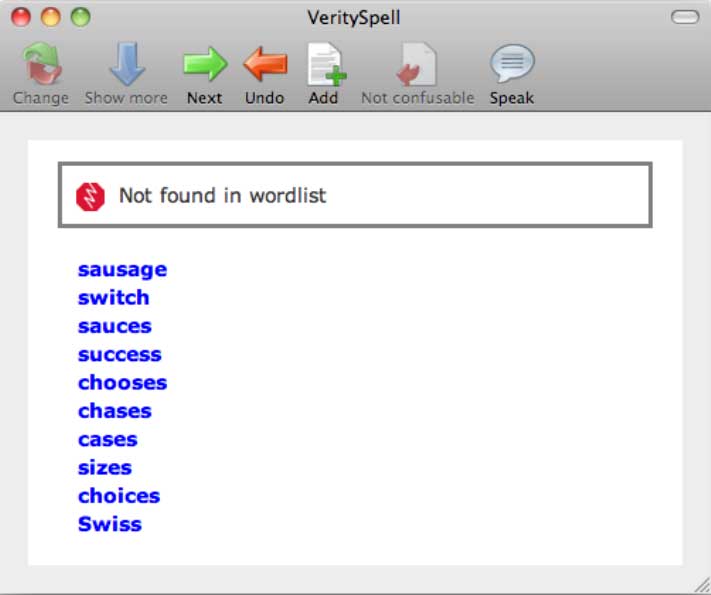 Serious spelling mistakes
VeritySpell can correct serious spelling mistakes like inof (enough), citon (kitten) and tri (tree) better and more efficiently than any other spellchecker.
Confusable words
VeritySpell also helps you handle confusable words like witch–which and their–there–they're. Thousands of example sentences help you decide whether you have chosen the right spelling in your context or not.
Grammar mistakes and incorrect expressions
VeritySpell offers support for grammar and other mistakes that both native speakers of English and others may make when writing in English, for example grammar mistakes like The cats is hungry (The cats are hungry) or incorrect writing of compounds like bicyclehelmet (bicycle helmet).
Works in your favourite word processor
VeritySpell is a stand-alone program and can be used with many common word processors. On a Mac, it can even replace the system's built-in spellchecker to become more integrated in various writing environments.