Read&Write lets everyone read, write and express themselves more confidently.

An easy-to-use toolbar makes documents, files and web pages more accessible. Read&Write is a big confidence booster for anyone who needs a little support with their reading and writing, at school or in the workplace. And its friendly literacy features help English Language Learners, as well as people with learning difficulties or requiring dyslexia tools.

From hearing emails or documents read out loud to text prediction, picture dictionaries and summary highlighters, Read&Write makes lots of everyday literacy tasks simpler, quicker and more accurate.
Hear
Hear web pages and documents read aloud to improve reading comprehension, with choice of natural voices
Understand
Understand unfamiliar words with text and picture dictionaries
Develop
Develop writing skills with word prediction
Support
Supports independent learning and understanding
Improves
Improves confidence and understanding levels for struggling readers
Helps
Help students and employees with dyslexia and other literacy challenges
Assists
Assist English Language Learners and individuals with English as a Second Language
Offers
Offers bilingual support for a growing number of languages
ClaroRead is a simple, easy-to-use and flexible software program that helps you to read, write, study, and increases your confidence. You can read any on-screen text out loud and improve your writing in Microsoft Word. ClaroRead Plus and Pro also lets you read aloud scanned paper books and documents with complete clarity.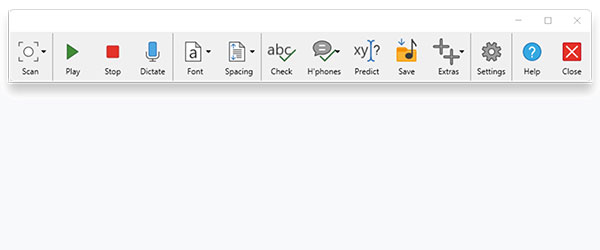 Reading
Reads Microsoft Word, Adobe Reader, OpenOffice/LibreOffice and Internet Explorer with speech and highlighting so you can follow the text as it is read out by high-quality human-sounding speech.
Word prediction
Suggest words as you type to help with spelling and writing.
Dragon NaturallySpeaking
Echo back text recognised by Dragon as it appears on your computer screen so you know it is right.
Writing
Listen back to your text after you have written - hear mistakes you can't spot when you read.
Spellcheck
Speaking spellcheck lets you select the word you want by hearing the alternatives.
Dictionary
Speaking dictionary for any word in any program with over 300,000 English definitions.
Reading
Change font and text to make it easier to read.
Listening later
Read text into an audio or video file to listen to later.